Lifestyle -
Travel and Places
Written by Administrator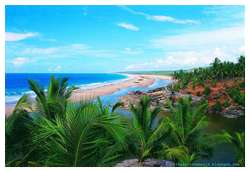 45 kms from ernakulam city, this lovely beach bordering vypeen island is ideal for swimming. Dolphins are occasionally seen here. A typical kerala village with paddy fields and coconut groves nearby is an added attraction.
Located 16 km south of Thiruvananthapuram (Trivandrum) city, Kovalam is a world-famous beach resort
, which has been a favorite spot for tourists since 1930s. This beach has lovely coconut palms fringe the golden sands. Foreigners throng Ayurvedic parlors, yoga and meditation centers, that have sprung up all over the place...
Lifestyle -
Travel and Places
Written by Administrator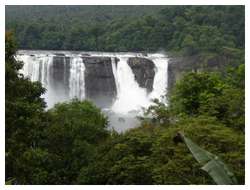 Wild and beautiful, unspoilt by the passage of time, a tranquil and much needed escape from reality is the beautiful waterfalls of Athirapally and Vazhachal. Perched high above in the Sholayar forest ranges on the fringes of Kerala's famed rain forests
, Athirapally waterfalls provides a restful escape for those wanting to leave the hurried pace of city life behind.
The charm of the Athirapally and Vazhachal nature can hardly be described in words. Starting calmly from the Sholayar high ranges and crashing through gorges overhung with trees, this waterfall is one of the best places in India to capture a real sense of the 'Picturesque' - something wild in nature.
The forests of the Chalakudy River have revealed the existence of a thick riparian vegetation of more than 10 metres width for a distance of 10.5 km downstream from Peringalkuth, covering an area of 58.5 hectares. Out of this, 26.4 hectares lie within the Vazachal area, including three large islands densely covered by riparian forests.
The forests of the area have been found to be characterised by the presence of typical riparian species of plants. Out of the 319 species of flowering plants identified from the study area, 24 are endemic species of the Western Ghats and 10 are rare and endangered...
Lifestyle -
Travel and Places
Written by Administrator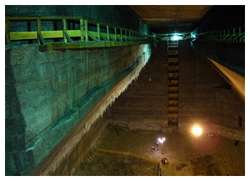 Travel guides mostly do not mention these underground wonders, creepy tunnels and massive underground systems. Some of these tunnels are only recently opened to public. Some are still impossible to enter and very hard to explore. But this is where the "spirit of adventure" comes in, as multitudes of amateur photographers descend into the unknown to bring back evidence of things unseen...
<< Start < Prev 41

42

43 44 Next > End >>


Page 42 of 44