Lifestyle -
Food and Drink
Written by Administrator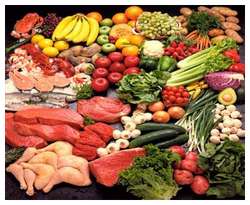 Organic food is grown in a manner that is friendly for the environment as well as safe to eat. The goal is to work with nature instead of against it to get the supply of food
that is needed out there. Many people are concerned about the negative effects of conventional farming methods.
There are some common problems when growing fruits and vegetables. There are pests that want to eat them as well. Conventional methods allow the use of pesticides to control them as well as herbicides to get rid of weeds. With organic foods though no chemicals are used. Natural compost is used as fertilizer and traps are used to get rid of the pests. Weeds are pulled by hand or removed with machines as well.
With organic food processing though the soil is able to maintain a great deal of the nutrients. In fact, in many areas the compost that is used for fertilizer can actually help the soil to be better than it was in the past. This means that the ground isn't being depleted of anything and that future crops have an excellent chance of growing there...
Lifestyle -
Food and Drink
Written by Administrator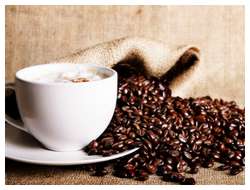 The history of coffee is ridden with many interesting stories and fantastic legends of chance occurrences, political intrigues, and the pursuit of wealth and power. Who knew that a simple cup of brew could offer so much adventure?
To learn the history of coffee is to learn how civilization came to be. One sip from a steaming cup brings you back to a time when the effect of coffee beans was first noticed.
According to the story, a sheep herder from Caffa Ethiopia named Kaldi was tending his sheep one day when he noticed something odd about his sheep. The animals became hyperactive after eating the red "cherries" from a certain plant. Curious as to why they would display such strange behavior, he tried a few of these cherries himself and discovered that he too felt as overactive as his herd.
As the story went, a monk passed by and saw how the sheep herder was acting. After hearing the boy's story about the cherries, he disapproved and scolded him for partaking of the "devil's fruit." However, after trying some himself, he soon realized that the fruit of this shiny green plant could help his brother monks stay awake for their prayers...
Lifestyle -
Arts and Culture
Written by Administrator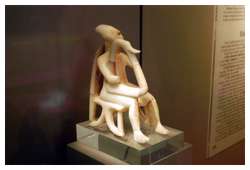 Cycladic sculptures are thousands of years old and yet look eerily modern. A face with no facial features, except the nose, is not exactly how we think of ancient Greek art. Cycladic art came to prominence during the twentieth century. Unfortunately that started a period of looting, which destroyed the possibility of putting the sculptures in any kind of location or archeological context. To this day we know very little about Cycladic art. A measure of its growing importance is the existence of the Cycladic Museum located in the heart of Athens, Greece.
The Greek islands of the Cyclades are located to the South East of Greece and to the North of Crete in the Aegean Sea. There are more than two hundred islands approximating a circle around the most significant island Delos, the birthplace of Apollo, Greek God of music and light from Greek mythology and of Artemis, the huntress. The Greek name for the Cyclades is Kyklades, an obvious reference to a circle...
<< Start < Prev 41 42

43

44 Next > End >>


Page 43 of 44