Lifestyle -
Travel and Places
Written by Administrator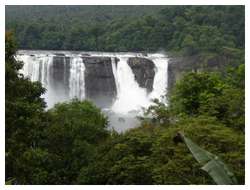 Wild and beautiful, unspoilt by the passage of time, a tranquil and much needed escape from reality is the beautiful waterfalls of Athirapally and Vazhachal. Perched high above in the Sholayar forest ranges on the fringes of Kerala's famed rain forests
, Athirapally waterfalls provides a restful escape for those wanting to leave the hurried pace of city life behind.
The charm of the Athirapally and Vazhachal nature can hardly be described in words. Starting calmly from the Sholayar high ranges and crashing through gorges overhung with trees, this waterfall is one of the best places in India to capture a real sense of the 'Picturesque' - something wild in nature.
The forests of the Chalakudy River have revealed the existence of a thick riparian vegetation of more than 10 metres width for a distance of 10.5 km downstream from Peringalkuth, covering an area of 58.5 hectares. Out of this, 26.4 hectares lie within the Vazachal area, including three large islands densely covered by riparian forests.
The forests of the area have been found to be characterised by the presence of typical riparian species of plants. Out of the 319 species of flowering plants identified from the study area, 24 are endemic species of the Western Ghats and 10 are rare and endangered.
Moreover, the Chalakudy River is known for its diversity, as it contains 85 species of fresh water fishes out of the 152 species known from Kerala. Among these, 35 are endemic species of the Western Ghats and nine are considered to be endangered.

How to reach Athirappally
Athirapally  is just 90 km from Cochin. Bus services are available from Chalakudy on Cochin Trichur highway or you can catch a cab (Taxi) from Chalakudy Railway Station. This scintillating waterfall in thick green forest is a part of the Chalakudy river stream.
source: here