Lifestyle -
Travel and Places
Written by Administrator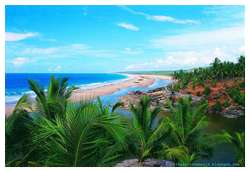 Cherai Beach:

45 kms from ernakulam city, this lovely beach bordering vypeen island is ideal for swimming. Dolphins are occasionally seen here. A typical kerala village with paddy fields and coconut groves nearby is an added attraction.

Kovalam Beach:

Located 16 km south of Thiruvananthapuram (Trivandrum) city, Kovalam is a world-famous beach resort
, which has been a favorite spot for tourists since 1930s. This beach has lovely coconut palms fringe the golden sands. Foreigners throng Ayurvedic parlors, yoga and meditation centers, that have sprung up all over the place.

Kovalam Beach consists of three successive small crescent beaches; the southern most known as Lighthouse Beach, is where most of the visitors spend their time. The middle beach is called Hawah. Each morning this beach acts as a base for the local fisherman. The northern most beach, Samudra, is least affected of all by the changing times. It is dotted with few rudimentary wooden fishing vessels.

The palm-fringed bays of Kovalam in secluded coconut groves, promise a relaxed stay. The unforgettable image of Kovalam is that of the coconut-palms-lined high rock promontory that cuddles the calm and wide expanse of the blue waters.

In the evening the quiet atmosphere of the place is enlivened by Kathakali performances, the classical dance-drama of Kerala

Marari Beach (Mararikulam):

Right in the heart of the "spice coast" just an hour from Cochin and even less to Alleppey(also Known as Alpuzzha) is the most fabulous stretch of soft sandy beach fringed with palm, an idyllic retreat for those who want to "get away from it all". Marari originates from "mararikulam", one of the local fishing villages, where life still goes on much as it did a hundred years ago, with the men going out to sea each day to earn a living bringing in the daily catch. Completely new to the holiday maker. Marari offers endless miles of superb sand beaches backed by swaying palms, virgin territory where you can experience to local charm and traditional keralan hospitality at its best.
source: here