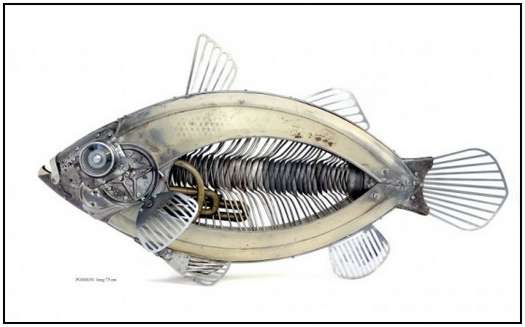 How often do you recycle? Recycling is quite important for preserving of nature and resources, and somebody's junk can be someone's treasure at the times, or in this case, art. So if you're planning to throw away your junk, and not recycle it, you should maybe give it to Edouard Martinet because he can turn junk into art, or into sculptures.

These materials can be useless junk to you, but Edouard Martinet knows the right way to turn your junk into something beautiful. Just like any other modern artist, Edouard create sculptures, but not from stone, instead, he uses recycled materials, and despite its materials, these sculptures look amazing and quite futuristic. He's especially interested in bugs and animals, and today we have few pictures of his works that we want to share with you. We have few bugs, ladybug and a grasshopper to be precise, a frog, and a few fishes. All these sculptures look highly detailed, and you can recognize some of the materials that Edouard used. You can see screws and wrenches on a grasshopper for example, and each of these sculptures is consisted from everyday materials you will surely recognize.

So next time when you want to throw away your junk, think of these pictures, and try to remember that it can be turned into something beautiful.