Offbeat -
Pets and Animals
Written by Administrator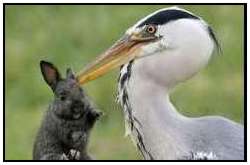 Herons are not known for preying small mammals but these intelligent birds are known to adapt flexibility in their feeding habits and in this case the cutesy bunny just got unlucky.

The little rabbit was drowned in the water which also makes the rabbit more slippery to down into the heron's throat. It's interesting to see the cycle of life in nature but its pretty disturbing to see birds that should be eating fish taking a taste of small land mammals. Perhaps the photographer should have rescued it instead of just observing but then again the heron would probably just look for another prey.
Offbeat -
Pets and Animals
Written by Administrator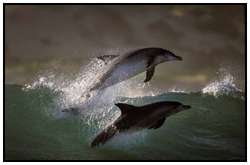 Photography can sometimes be beautiful, especially if you know the right way to capture a moment, and this is what Greg Huglin is doing with his pictures, so let's have a closer look at them.
Just like many artists all over the world, Greg Huglin knows a way to capture a moment, and like other artists, he likes taking pictures of animals, but not just any animals. In fact, Greg is especially interested in dolphins, and today we have some pictures of dolphins by Greg Huglin. I don't know many artist that are taking photographs of dolphins but I know that these photographs are simply amazing. These animals are beautiful and I'm positive that it is harder to take a picture of dolphin while it jumps out of water than to take a picture of any other animal.
Anyhow, Greg Huglin did a beautiful job and these pictures are simply breathtaking so make sure that you don't miss them.
Offbeat -
Pets and Animals
Written by Administrator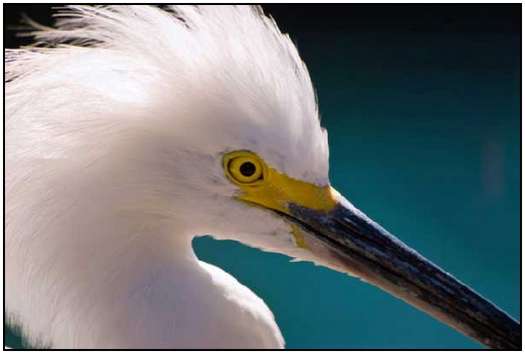 Birds are magnificent creatures with their amazing colors and songs, so it's no wonder that people all over the world enjoy in photographing these creatures. However, sometimes can be quite hard to take a picture of a bird since they are creatures that can easily be frightened. Even a smallest sound can scare a bird, so you have to be extremely careful when you're taking photos of birds, since one small mistake can cost you of a great picture. Therefore, when you're photographing bird, you'll need a proper equipment and a lot of patience.
<< Start < Prev 1

2

3 4 5 6 7 8 9 10 Next > End >>


Page 2 of 10