Lifestyle -
Travel and Places
Written by Administrator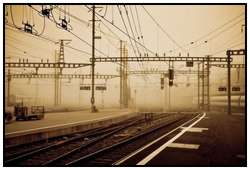 Have you ever imagined what would it look like if some of the world's largest cities would look like if all people who live there have suddenly decided to leave and abandon them.
If you see some photos of how abandoned places does look like, then you'll probably be able to feel that strange sadness while watching abandoned places.
It is interesting how those places can look sad and miserable. When you watch the ruins and remains of whole settlements where people once lived, you cannot stay untouched by the fact that now there is no anyone left there and that probably most of those who lived there are dead by now.
But, this also can help you to see this world from the real point of view. This world is made to end and if you are conscious of this fact you can consequently discover a truth about this world, that nothing can resist the jaws of time and no matter how something is big and glorious in this world, it is condemned to end, sooner or later.

Photographer Anthony Kurtz tried to show us his view of abandoned places and here you can see his remarkable photos of such places.